Vintage Black and White Photo, Photograph in Chippy White Swivel Frame, Vintage Frame, Vintage Display Frame with Childrens Photo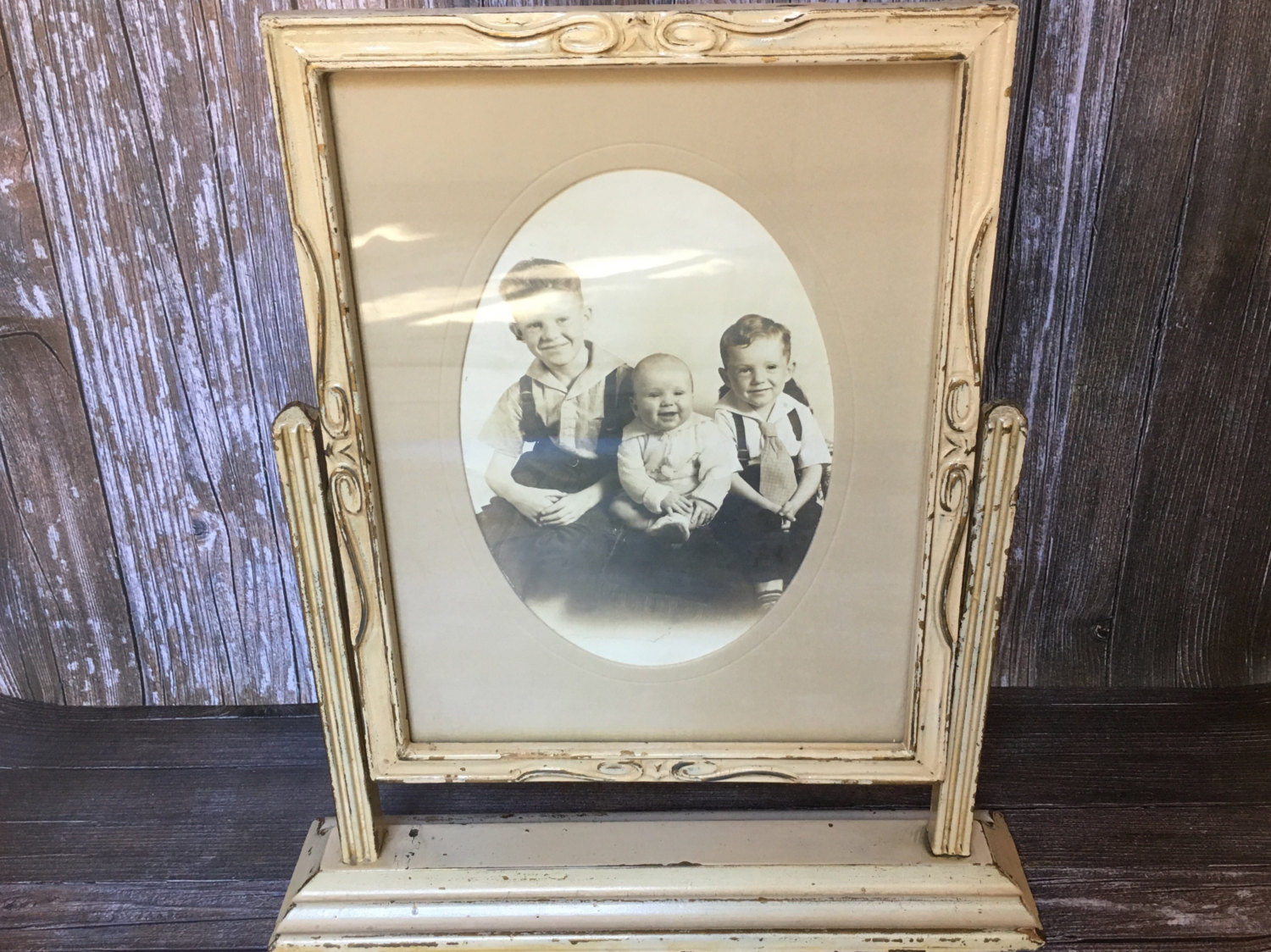 Vintage Black and White Photo, Photograph in Chippy White Swivel Frame, Vintage Frame, Vintage Display Frame with Childrens Photo
This framed portrait of three young boys is in gorgeous vintage condition and is likely from the 1940s considering the clothing the boys are wearing. They are likely brothers or relatives since they are sitting for the photograph together. On the left, the oldest boy, perhaps in middle school, grins, wearing high-waisted pants and suspenders and clasps his hands in front of him with his hair suavely styled on top of his head. On the viewers right a boy of perhaps 3 years, also looks out kindly underneath a combed hair with one stray curl on his forehead. He also wears high-waited pants with suspenders but has added a big, thick, oversized tie to the ensemble. The middle figure is a baby, sailor collar tied under his chin and bald head grinning out past the viewer with the other two. They're a cheery bunch and its a well composition and executed piece of black and white film photography from the past.

The white ornate picture frame on this piece is the best part however. It is an off-white/ivory color and has been painted over the scrollwork and ridges around the structure of the frame and the frame's base. The frame itself swivels on hinges attaching it to a post on either side of the frame and those posts go down to a base that actually sits on a mantle, shelf, etc. The bottom of the frame is covered with felt to reduce scratching on whatever surface it is placed on. The color and style give it that true vintage feel. It can not be guaranteed that the frame is as old as the picture itself however.


The actual picture itself is approximately 9" X 7", the frame is approximately 9.75" X 7.75". On the stand the whole piece stands approximately 12.25" tall.